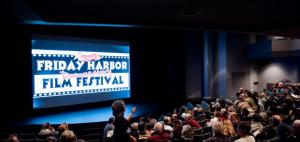 January 7, 2020 to May 19, 2020
Date:
First & Third Tuesday Jan. 7 - May 19, 2020
Admission Information:
 Admission is by donation.  Film Society Members are free.
The Friday Harbor Film Festival presents The Best of the Fest, shown twice a month on the first and third Tuesday. There will be selected the top-rated films of the 2019 Film Festival.
Schedule:
January 7  The IF Project
January 21  The Wild and Dammed to Extinction
February 4  Ghost Fleet
Feb 18  The Zen Speaker
March 3  The Need to Grow
March 17  The Biggest Little Farm
April 7  Maiden 
April 21  Risking Light andThis Being Human
May 5  The Bowmakers
May 19 The River and the Wall
June 6, 2020
The upcoming Friday Harbor Bike Fest is the fourth annual bike ride sponsored by the San Juan Lions Club.