Monitor the ferry line while exploring downtown Friday Harbor's eclectic mix of restaurants, art galleries, gift shops and bookstores.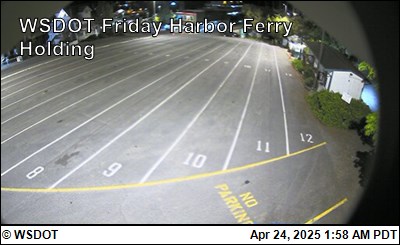 View of the Ferry Landing (Lot A only) Friday Harbor, San Juan Island Washington.
Enjoy Seafood with a View
Several restaurants sit just yards from the Friday Harbor Marina and Friday Harbor Ferry Landing. Most menus are seafood focused. Here, chefs pay particular attention to what's in season as they buy the daily catch from local fisherman.
Discover Local Artists
Surrounded by such vibrant, natural beauty, the islands have become a hotbed for artists. This is an area where creativity thrives. With such immense talent gathered in the same place, boundaries are pushed, different techniques are explored and new mediums are tested. The galleries throughout town showcase the regions amazing selection in regularly changing displays.